ALEKSANDRA MASLENNIKOVA [ANNA]
Aleksandra came into acting few years ago when she immigrated to Toronto. She played few seasons with a local Russian speaking theatre, then got involved gradually in the English plays with various community theatres and festivals. Most recent roles include Edith Frank in Marion Abbott Production (Box Toronto) of "The Diary of Anne Frank", and Madame Giles in a solo show "Red Lacquered Box" (The New Ideas Festival at Alumnae Theatre). Along with theatre, Aleksandra's focus is on camera work as well, as she has taken parts in student, indie/short, feature films. Her favourite roles include Vesna in the student film "Bosniak" (which was her film debut), Valentina in the short "Valentina" (shot on 35mm film), and most recent feature film "1989". And now she is thrilled to begin the travel all the way to the post apocalyptic world of "Forgotten Corpses"!
Matthew Sauvé is an accomplished actor from Toronto, Canada who has appeared in over thirty film and television productions. Best known for his lead role performance as 'Travis' in the dramatic short film "One Night Stand", he was recently awarded BEST ACTOR at the Calcutta International Cult Film Festival. The film will be premiering at the Toronto Shorts International Film Festival and has received many accolades in the International Film Festival community. He also appeared as the lead actor in Simple Plan's 'Singing in the Rain' music video which climbed the U.S. charts on Ryan Seacrest's weekly Top 40, and the U.S. 'Billboard Hot 100'.
Matthew is also known for his stand up comedy performances, having opened for all 5 of Tim Meadow's 'SNL', 'Mean Girls' 2012 Canadian shows. Dedicated to his profession and the development of young actors, he teaches kids acting at the Kamera Talent Agency owned and operated by Sutherland Models Inc.
Azfar Tahir is a Toronto based award winning actor and tv talk show host who started his acting career in late 1980's. Pakistan Television's trained professional actor has performed in English, Urdu, Hindi and Punjabi languages.
Acted in numerous television dramas, serials, series, telefilms, feature films, tv commercials and theatre both in Canada and Pakistan. Hosted quiz shows on TV, performed as a voice over artist and also worked as a sports commentator for PTV. Radio presenter on 101.3 FM Toronto.
Hosted "Salam Canada", a weekly talk show on TVONE Canada for many years and on Rogers Channel 10 prior to that. Very passionate about his work and travels on a regular basis for his acting assignments.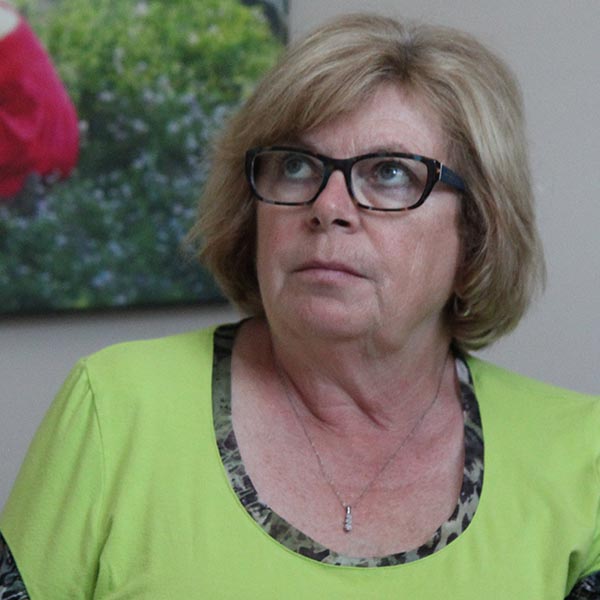 Carmel Warman
CARMEL WARMAN [DIANNE]
Carmel has performed in and around Toronto in numerous Community Theatre productions since 2007. Her repertoire includes roles such as the Wicked Witch of the West, with Uxbridge's Rylepuss Productions "Wizard of Oz", Germaine Lauzon with Oshawa Little Theatre's, "Les Belles Soeurs", and Maud Hayes with Toronto's Encore Productions "Forty Carats".
Carm's very honoured to be a part of "Forgotten Corpses" and wants you to know, she now sleeps with her light on!